Colm's new album The River Holds Its Breath (Tost ar an Abhainn) is due out now at all the usual places via this link & in record shops. The first 200 orders from this shop will get a hand painted and handwritten card from Colm similar to the river artwork. Stay tuned for vinyl.
Colm performed on the track "Homeward Bound" by Street Lights. Buy it from your online vendor of choice here.
Colm composed & performed the soundtrack to the film Dare To Be Wild – various listening & purchase options here.
Digital downloads of And Now The Weather (Agus Anois An Aimsir) are available via iTunes (worldwide) where you can purchase a version of the album with Irish liner notes or a version with English liner notes.
And Now The Weather (Agus Anois An Aimsir) - Vinyl LP
00010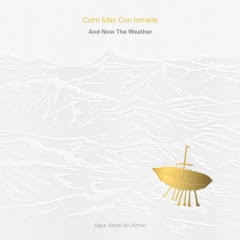 For those of you waiting patiently to hear And Now The Weather in the quality of large format this beauty is now available on vinyl! It comes with all the high finish design elements of the cd- emboss, gilding, gloss- and also a download code. If you want it signed add a note in your order comments.

If you have any questions or you prefer to pay by check or money order & need the mailing address, please email orders [at] colmmacconiomaire [dot] com. Thank you!

And Now The Weather (Agus Anois An Aimsir) was released on April 17 2015.

1. The Finnish Line / An Líne Fhionlannach

2. A Study In Scarlet

3. Set Sail / Croch Seol

4. Flower / Bláth

5. In the Arms of the Angels / I mBaclainn na nAingeal

6. The White Boat-Liam O'Reilly / An Bád Bán-Liam Ó Raghallaigh

7. Mood Alabama / Aoibh Alabama

8. The Legend of Oisín / Laoi Oisín

9. Sappho's Daughter / Iníon Sappho

10. A Farewell to the Sea / Slán leis an bhFarraige